Laos
Laos is fast becoming one of the most popular destinations in Southeast Asia. This spectacular country provides you with a real experience, full of culture, hospitality, and beauty. Travel to Luang Prabang to witness the Wat Xieng Thong temple, a magnificent and historic structure that is sure to wow. Next, head further south to the Laos National Museum to explore some of the country's diverse and turbulent history. Luang Prabang boasts some stunning cascades, including the Kuang Si Falls. Explore how the company care for elephants in Elephant village sanctuary that would otherwise be used in the logging industry. Visit the Traditional Arts and Ethnology Centre, a way to learn about local production and pick up a souvenir along the way. Make your way to Vientiane and check out some of the country's Buddhist heritage. The temple of Wat Si Saket boasts over six and a half thousand images of gold, silver, and bronze Buddhas, whilst the Buddha Park has hundreds of sculptures dotted around a tranquil meadow. Vang Vieng is equally worthy of a visit. Cool off in the Tham Phu Kham Cave and Blue Lagoon, spend an idyllic afternoon basking in the sun and dipping in and out of turquoise fresh water, or get tubing for a different aquatic experience.
Hot Deal Of The Month
September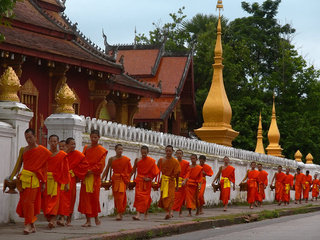 Duration:
5 day(s)/4 night(s)
Feature:
Experience intensively this wonderful city through various sights: amazing temples and Lao history, monasteries and monks, holy places and colonial flaire, Mekong sunsets, wonderful nature and activities in and around Luang Prabang world heritage town.