Vietnam Culture
There are 54 ethnic groups living in Vietnam. Together they have built the country and fought for national freedom and independence against invaders Many minorities have their own language, script and distinctive cultural identity. The cultural indentity of each ethnic group is manifested through their communal life and the social-economic activities. Still, the ethnic groups of Vietnam share some common virtues, including a strong work, ethnic kind-heartedness, altruist, resilience, and bravery.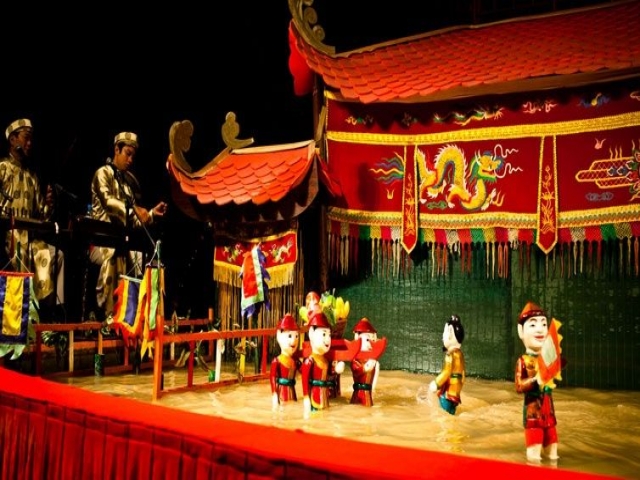 Religions and Rituals
Located near two major centers of culture, India and  China, Viet Nam has absorbed a number of regions over time. Although imported from different countries, religions in practice in Viet Nam have demonstrated no signs of conflict, and exist in harmony, striving for mutual development, and good secular and religious life. The Vietnamese Law ensures the sovereignty and freedom of religion and ritual. For thousands of years, different religious practices have played major roles in the lives of the Vietnamese people including worshing ancestors, village Spirit, and national heroes. Each ethnic group has traditionally paid special attention to the worship of ancestors. These customs and habits remain today.
Festivals
Festivals are a popular Vietnamese cultural activity. A festival, whether organized by a group living in the lowlands or highlands, is a chance for everyone to remember their origins and show their gratitude to those who had great merits for the nation. A festival is also a chance for people to exchange ideas, customs and habits to express their noble desire to love their country. Most Vietnamese festivals are organized in spring or autumn, the most pleasant times of the year when the harvests have been completed. Among these festivals, Tet  Nguyen Dan (Lunar New year) and the National Day (September 2) are the most important.
Craft Villages
In many villages, in addition to cultivating rice, vegetable and other crops, villagers produce traditional handicrafts. The skills to create these crafts are handed down from generation to genaration, with diligent artisans creating high-quality products. Traditional Vietnamese handicrafts are rich and diverse, including ceramic and porcelain making, silver engraving wood carving, silk weaving, brocade production, and bamboo and rattan weaving. Tourists visiting these craft villagers are able to witness the expertise of Vietnamese craftsmen, and take home remarkable souvenirs.
Traditional Costumes
The traditional attire of Viet Nam is another part of its unique cultural identity. Each ethnic group has its own costume designs, typically employing bright and contrasting colors such as black and white, black and red, green and red, or green and white. Almost all traditional costumes are made from flax, cotton, or sillk. These are different types of costumes for people of different age and gender and for different occasions, such as meetings, festivals, wedding, and funerals. However, nowadays, Vietnamese people typically wear western clothes. The most important article of traditional dress is ao dai (traditional long dress), which has been designed and stylized to the tastes of young girls. The present-day ao dai clings to the body helping to highlight the charming curves of its wearer. When wearing the ao dai, women often put on a conical bamboo hat than makes them look both graceful and gentle.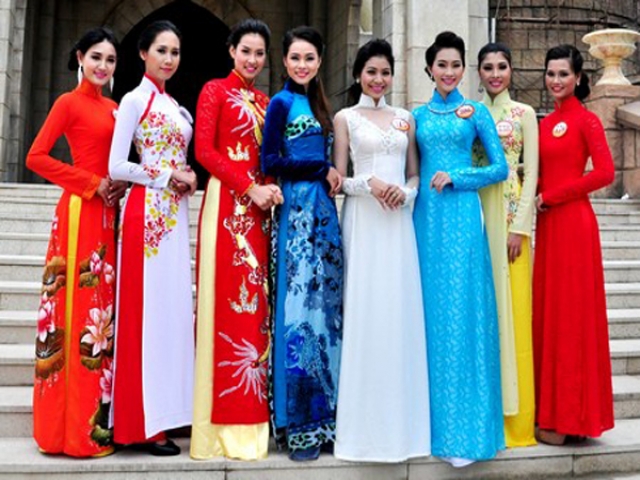 Gastronomy
Viet Nam is an argricutural society known for wet rice civilization, thus, most Vietnamese dishes are characterized by rice and other products of local argricuture.
Nem Ran is a very popular dish of Vietnam and canbe found on the menus of luxurious parties
Pho (noodles soup) is a delicous, simple dish. Pho noodles are made from rice. There are up to 20 kinds of Pho, with Pho bo being the most popular. Hanoians Pho has become famous around the world.
Banh Cuon (Steamed and rolled rice pancake). A rice flour batter is spread over a steaming plate to make a thin wrapper which is rolled with pork, minced shrimp and fried onion and dipped in a mixture of fish sauce, lemon and chilli.

In Hue , visitors should try corn hen (rice with mussels) a Hue speciaty. It is rather finicky to prepare, but has an unforgettable taste. Visitors to Hue can take home some of Hue's specialities, such as a bottle of its shrimp sauce.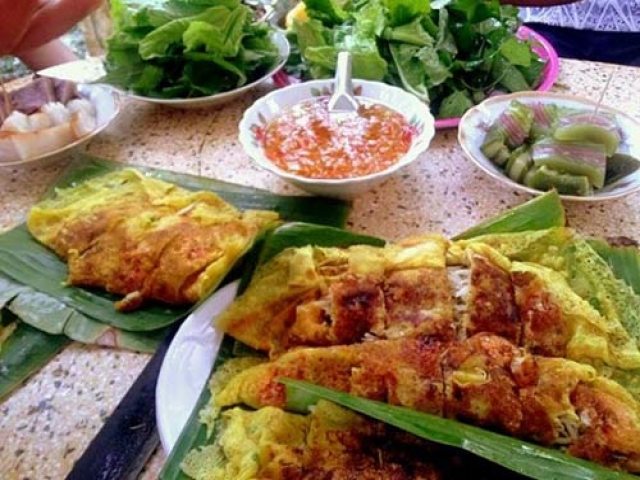 Cao Lau (Noodle soup) is a traditional favourite of Hoian. The noodles are made with specially selected rice, cooked over a slow fire.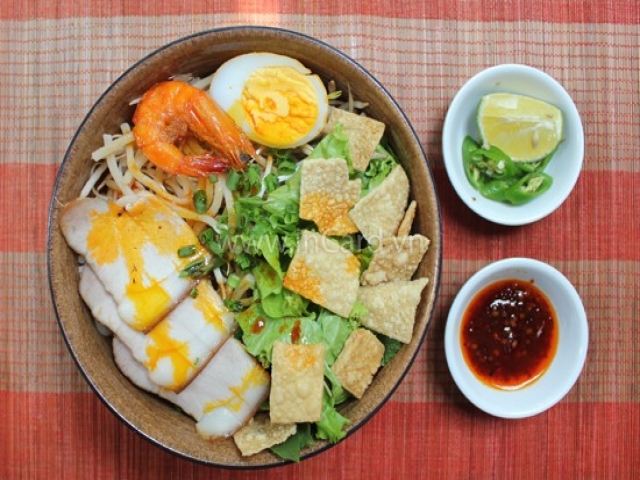 There are many speciallities with distinctive local flavour, such as Xeo cake (rice pancake) Hu Tieu (Noodle with seasoned, sauteed beef) in My Tho, Lau Mam (hot pot), spring rolls, are grilled shrimp paste.
It is impossible to count all of the traditional local dishes across Vietnam. Although many are made from the same raw materials, the dishes have distinct local flavour.