Cambodia Culture
Throughout the long history of Cambodia, religion has been a major source of cultural inspiration. Over nearly two millennia, Cambodians have developed a unique Khmer belief from the syncreticism of indigenous animistic beliefs and the Indian religions of Buddhism and Hinduism. Indian culture and civilization, including its languages and arts reached mainland Southeast Asia around the 1st century AD. It is generally believed that seafaring merchants brought Indian customs and culture to ports along the Gulf of Thailand and the Pacific en route to trade with China. The Kingdom of Funan was most probably the first Khmer state to benefit from this influx of Indian ideas.
Religions
Cambodia is predominantly Buddhist with 90% of the population being Theravada Buddhist, 1% Christian and the majority of the remaining population follow Islam, atheism, or animism. Buddhist nun at Angkor Wat, Siem Reap, Cambodia. Buddhism has existed in Cambodia since at least the 5th century CE Theravada Buddhism has been the Cambodian state religion since the 13th century CE (excepting the Khmer Rouge period), and is currently estimated to be the faith of 90% of the population. Buddhist monks at Angkor Wat. Buddhism is the official religion in all of Cambodia.
Custom
Sampeah (Cambodian greeting)
In Khmer culture a person's head is believed to contain the person's soul—therefore making it taboo to touch or point one's feet at it. It is also considered to be extremely disrespectful to use the feet to point out a person, or to sit or sleep with the soles of the feet pointing at a person, as the feet are the lowest part of the body and are considered to be impure. When greeting people or to show respect in Cambodia people do the "sampeah" gesture, identical to the Indian namaste and Thai wai. In Cambodia it is not polite to make eye contact with someone who is older or someone who is considered a superior.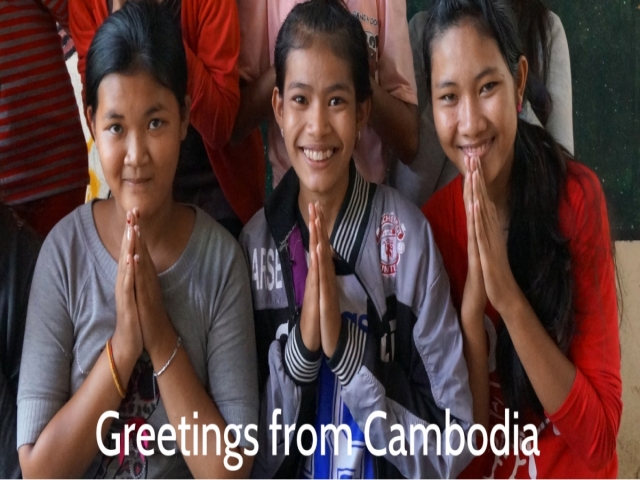 Festivals
Cambodians are always celebrating a festival of some sort, heading out to the pagoda with family and friends or taking off for the provinces; unsurprisingly, festivals are the busiest times for shopping and travelling. The most significant festival of the year is Bonn Chaul Chhnam (Khmer New Year; April 13 or 14), when families get together, homes are spring-cleaned and people flock to the temples with elaborate offerings. Bonn Pchum Ben (late Sept), or Ancestors' Day, is another key date on the festive calendar. Families make offerings to their ancestors in the fifteen days leading up to it, and celebrations take place in temples on the day itself. Marking the start of the planting season in May, the ceremony of Bonn Chroat Preah Nongkoal (Royal Ploughing Ceremony), held at Lean Preah Sre park in Phnom Penh, combines animism, Buddhism and plenty of pomp. It begins with chanting monks asking the earth spirits for permission to plough. Then ceremonial furrows are drawn, rice is scattered and offerings are made to the divinities. The most important part of the ceremony, however, is what the Royal Bulls choose when offered rice, grain, grass, water and wine. Rice or grain augur well; water signifies rain; grass is a sign that crops will be devastated by insects; and wine, that there will be drought. Though it has been cancelled for the last few years, the Bonn Om Toeuk (early Nov) water festival has traditionally been celebrated when the current of the Tonle Sap River, which swells so much during the rainy season that it actually pushes water upstream, reverses and flows back into the Mekong. The centre of festivities is Phnom Penh's riverbank, where everyone gathers to watch boat racing, an illuminated boat parade and fireworks. Buddhist offering days (exact dates vary according to the lunar calendar) are also colourful occasions: stalls do a roaring trade in bunches of flowers that are taken to temples and used to decorate shrines at home. Lotus buds – the traditional offering flower to the Buddha – are artistically folded to expose their pale-pink inner petals, while jasmine buds are threaded onto sticks and strings as fragrant tokens.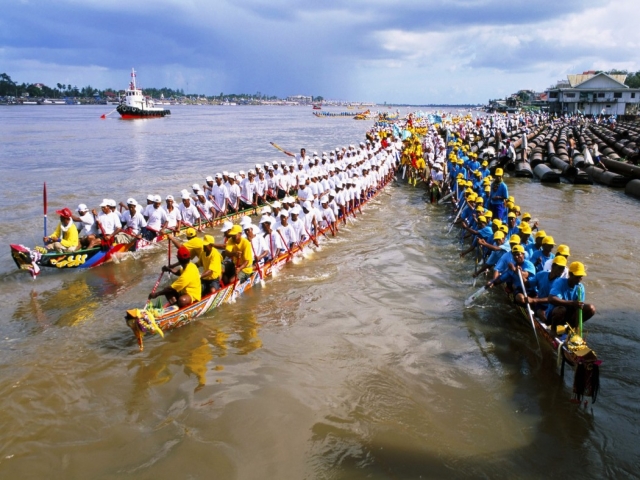 Traditional Costumes
Clothing in Cambodia is one of the most important aspects of the culture. Cambodian fashion differs according to ethnic group and social class. Khmer people traditionally wear a checkered scarf called a Krama. The "krama" is what distinctly separates the Khmer (Cambodians) from their neighbors the Thai, the Vietnamese, and the Laotians. The scarf is used for many purposes including for style, protection from the sun, an aid (for the feet) when climbing trees, a hammock for infants, a towel, or as a "sarong". A "krama" can also be easily shaped into a small child's doll for play. Under the Khmer Rouge, krama of various patterns were part of standard clothing.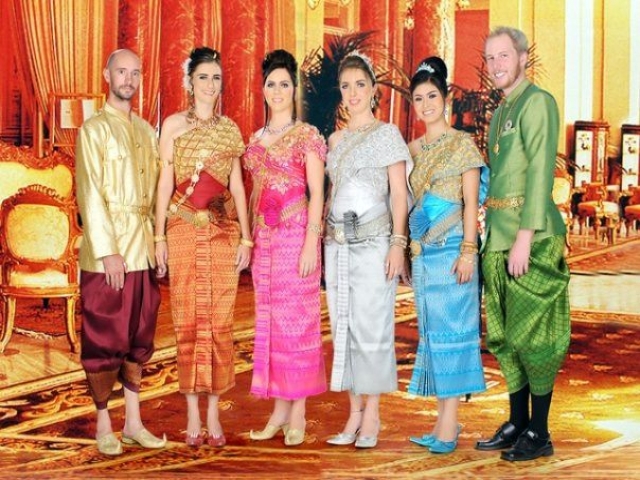 Arts and Crafts
Traditional Cambodian arts and crafts include textiles, non-textile weaving, silversmithing, stone carving, lacquerware, ceramics, wat murals, and kite-making. Beginning in the mid-20th century, a tradition of modern art began in Cambodia, though in the later 20th century both traditional and modern arts declined for several reasons, including the killing of artists by the Khmer Rouge. The country has experienced a recent artistic revival due to increased support from governments, NGOs, and foreign tourists.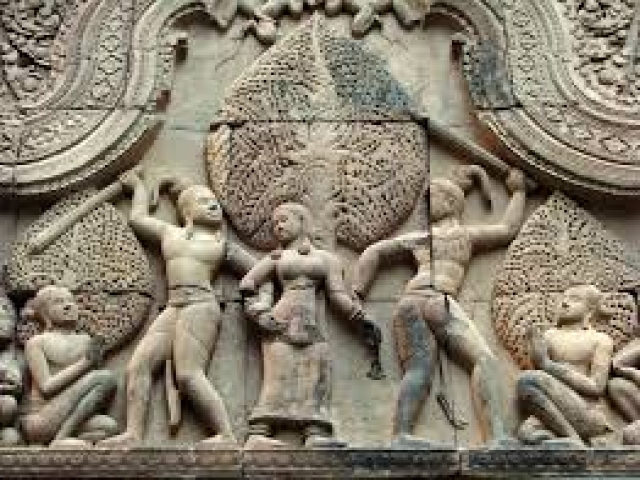 Gastronomy
Khmer cuisine is similar to that of its Southeast Asian neighbors. It shares many similarities with Thai cuisine, Vietnamese cuisine and Teochew cuisine. Cambodian cuisine also uses fish sauce in soups, stir-fried cuisine, and as dippings. The Chinese influence can be noted in the common chha and in the use of many variations of rice noodles. A particular popular dish of ultimately Chinese origin is pork broth rice noodle soup. Indian influenced dishes include many types of curry known as kari that call for dried spices such as star anise, cardamom, cinnamon, nutmeg and fennel as well as local ingredients like lemongrass, garlic, kaffir lime leaves, shallots and galangal that give dishes a distinctive Cambodian flavor. Banh Chaew, the Khmer version of the Vietnamese Banh xeo, is also a popular dish.Khmer cuisine is noted for the use of prahok , a type of fermented fish paste, in many dishes as a distinctive flavoring. When prahok is not used, it is likely to be kapǐ instead, a kind of fermented shrimp paste. Coconut milk is the main ingredient of many Khmer curries and desserts. Cambodians prefer either jasmine rice or sticky (glutinous) rice. The latter is used more in dessert dishes with fruits such as durian while jasmine rice is eaten with meals. Almost every meal is eaten with a bowl of rice. Typically, Cambodians eat their meals with at least three or four separate dishes. Each individual dish will usually be one of either sweet, sour, salty or bitter. Chili is usually left up to the individual to add themselves. In this way Cambodians ensure that they get a bit of every flavor to satisfy their palates.