Top Beaches in Vietnam
With over 3000 kilometers of coastline, Vietnam has plenty of secluded coves with white sands and waters fit for snorkelling and diving. For days spent sunbathing and evenings watching stunning sunsets, these are the best beaches in Vietnam. Verdant rice fields, blindingly-white beaches and a landscape as dramatic as its history. Once blanketed under the covers of communism, Vietnam long ago drew back the curtains to invite the world in for a snuggle. Some of the friendliest locals on earth are happy to have you to share their sand, in one of the most enriching and exotic countries in Asia. Here are 15 best Vietnam beaches
Ha Long Bay, Northeast Coast
Whilst not technically a beach, kayaking across tranquil waters and swimming amidst twinkles of phosphorescent plankton are both possible in spectacular Halong Bay. From November to March there can be chilly days of drizzly weather when the splendour and romance of the bay are harder to appreciate, but the gorgeous caves and beautiful scenery make up for this in the summer months.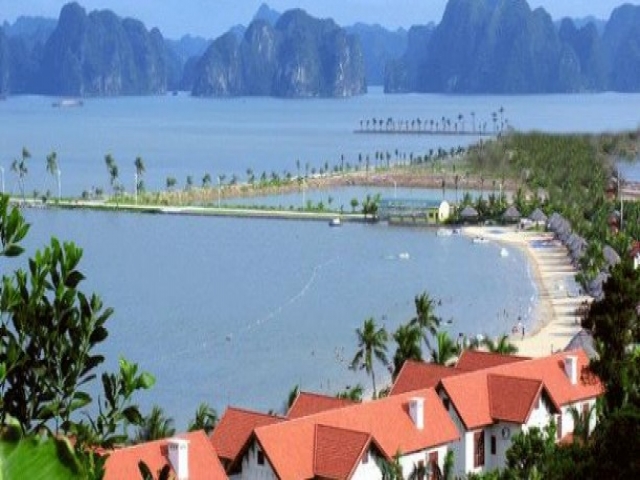 Lan Ha Bay, Halong Bay, Northeast Coast
The archipelago of Halong Bay, with its iconic limestone karsts – the towering natural sculptures that rise out of the below to define its landscape – is the stuff that Southeast Asian dreams are made of. Saying that, decent beaches are far from plentiful. But nestled in the surrounding Cat Ba National Park and a half-hour boat-ride from its main, eponymous island is little Lan Ha Bay. More than 130 beaches dust the island, most of them too tiny to be weighed down by an official name. So take a kayak and paddle your way from one nameless speck of sand to the next, and claim each one as your own.
Cat Co Beach, Cat Ba, Northeast Coast
Three small, sandy beaches lie to the east of Cat Ba Town on the Island of Cat Ba, just to the west of Ha Long Bay. Romantically named Cat Co 1, Cat Co 2 and Cat Co 3, One and Three are linked by a cliffside path that's a joy to walk anytime, day or night, and Two is a quieter retreat.
Minh Chau Beach, Quan Lan Island, Northeast Coast
North of Halong Bay and a four hour sail from the mainland (or a two-hour speedboat ride if you like to live in the fast lane) brings you to the cluster of islands of Bai Tu Long Bay, and it's every bit as beautiful as its big sis. Unpolluted and undeveloped, think amazing karst formations, 11th-century Buddhist pagodas and, when it comes to little sliver of Quan Lan Island, secluded, silky beaches. Our favourite, just 6km from the Quan Lan's major (but in reality, very minor) town, is Minh Chau. It's all a tropical paradise should be – chalky-soft sand fringed by wild pines, views of rocky outcrops protruding from the shallows and a collection of coral coves that can't be missed.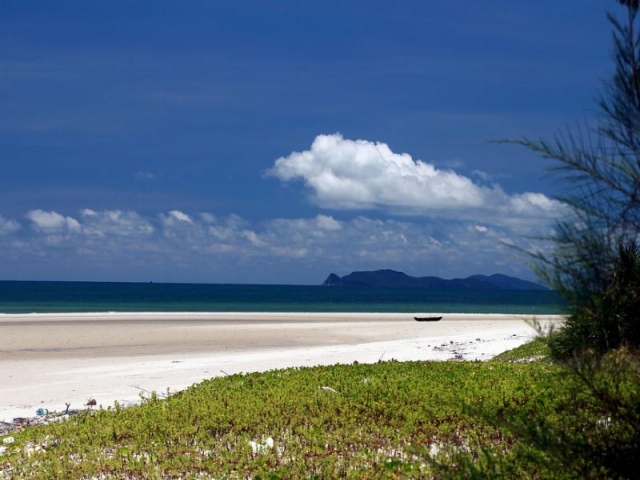 Thuan An Beach Near Huế, Central Coast
They say that the original is usually the best, and in the case of Thuan An beach, near the UNESCO-hailed city of Huế, they were right. A strong storm more than a decade ago, left a section of Thuan An wiped out and the locals thinking that it was a particularly unlucky spot of sand – so they decamped further down the coast. Frankly their loss is our gain, and this virtually empty beach is well worth seeking out. Ask the locals to point the way, and then stretch out on the smooth, neighbour-free sand.
Lang Co Beach Near Hue, Central Coast
Located 70km south of Hue and Da Nang 20km north of Lang has long been renowned as a beach with the natural conditions and the most beautiful scenery in Vietnam. With white sand more than 10km long, blue sea water, Lang Co Bay meets the conditions for the development of many forms of tourism such as sea resorts, diving, ecotourism lagoon, sports, hiking, golf, jungle expedition ...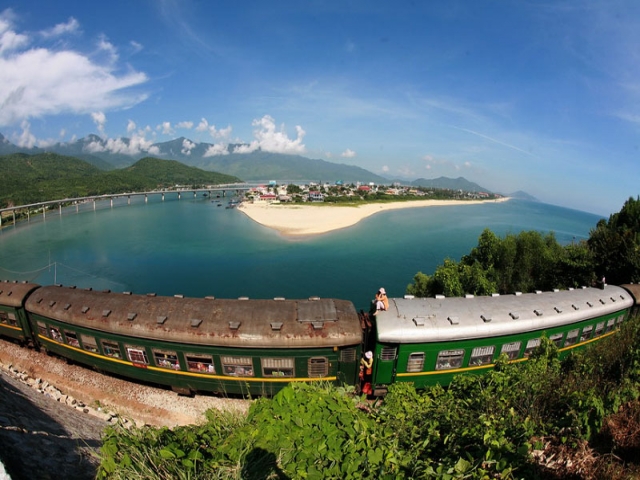 Non Nuoc Beach, Danang, Central Coast
Stretching to the foot of the majestic Marble Mountains and touching the shade of an age-old forest is Non Nuoc beach, one of the most stunning in the Danang coastline. It's a stretch of gently sloping sand where you can spend all day and night, safely sleeping beneath the jade branches of the native shrubbery once the sun sets. Amongst Non Nuoc's claims to fame is its rare seaweeds. Perhaps you can make a nice facemask while you're there.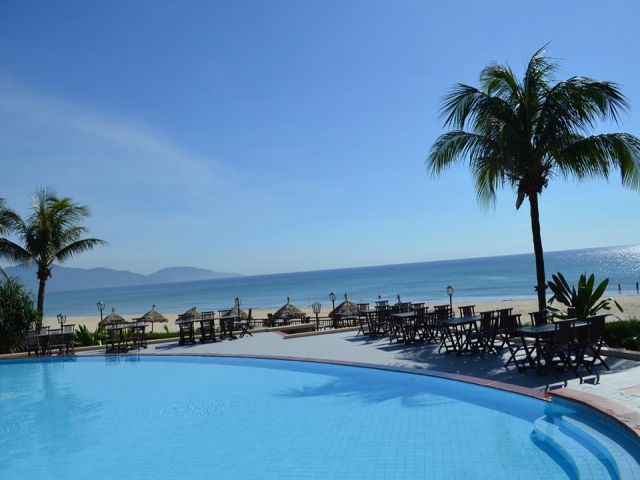 My Khê Beach Near Danang, East Coast
Just south of the city of Danang, China beach found infamy when hordes of US Marines set down their GI boots here, stomping history, and their entrance in the Vietnam War, into its white sands. Almost 50 years on and free from the shadows of one of Vietnam's darkest periods, China Beach is a place for glistening green waves and postcard-perfect soft sands. If you want to do a tad more than top up your tan, bring your board – the waves here pull surfers from around the world.
Spend your nights in the lap of luxury resorts with villas boasting private pools and a choice of unlimited spa treatments, the only thing that would make your experience complete is an array of mouth-watering Asian foods and breath taking views of the beach. Oh hang on. They've got that as well.
Cua Dai Beach Near Hoi An, Central Coast
The literal translation of Cua Dai means 'Big Sea Mouth' – the Big part being particularly relevant (so is Sea, admittedly. Mouth, not so much). The sheer, sweeping breadth of Cua Dai, and its 20 miles of sweet, silky sand, means that this is a beach where personal space comes as part of the package. It starts at the ancient, romantic, lantern-lined town of Hoi An and threads along the coast to the city of Da Nang. Kick back, fresh pineapple in hand, taking in the awesome panorama of white sand and tranquil waters.
City Beach, Nha Trang, South Coast
Nha Trang, a delightful south coast city, is generally recognised as Vietnam's premier beach destination. Six kilometres of sand joins the sea to the city, with rolling waves on one side and fringed on the other by cafes, restaurants, and some unusual modern sculptures. Watersports, day trips by boat and of course fresh pineapple are all readily available, but bear in mind the more choppy waters of November and December mean the beach loses much of its appeal.
Ca Na Beach, South of Nha Trang, South Central Coast
Legend has it that an ancient kind and queen came here to bathe in its crystal-clear waters, and believed the place to be so magical, they christened it 'Fairy Fish'. Nowadays it more commonly goes by the nickname 'Sleeping Princess', awarded because of the sheer grace and beauty of the place. Its 10km of white sand slopes into the glimmering green waters, and flanked by the mighty Truong Son Mountains, come spring its undulating backdrop is out in full apricot-blossom bloom.
Ninh Chu Beach, Ninh Chu
Five kilometres north of busy Phan Rang lies the pleasant, wide crescent of Ninh Chu beach. Less popular with tourists than Mui Ne or Nha Trang, the beach still provides a quiet midweek stop, good for swimming, sunbathing and beach games in general.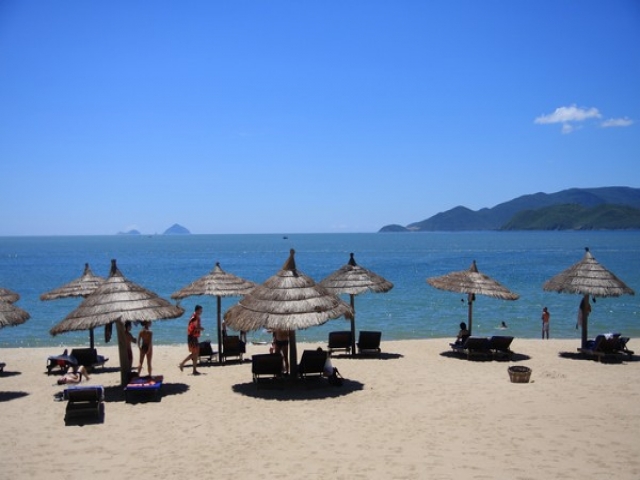 Ong Dia Beach, Mui Ne, South Central Coast
Tipped as Southeast Asia's next big beach spot, the palm-lined stretch of Ong Dia beach, takes the suitably-sparkly crown in this Mui Ne parade of local beach beauties. In an area that sees some of the lowest rainfall in Vietnam, the Mui Ne coastline is famed for its rolling red and gold dunes – take a jeep ride over them, take a sand-sledge down them (avoid the temptation to smile or you'll get a mouthful) or simply stand on top of one, sea-breeze sweeping your face as the coconut palms sway and the sun sets.
Star Beach, Phu Quoc Island, Southwest Coast
Ringed by bright white sands, the triangular island of Phu Quoc down in the Gulf of Thailand, is home to some of Southeast Asia's best beach beauties. Bai Sao on the south of the island might be tricky to get to – ask an ever-friendly local – but the isolation of this tropical treat is exactly what makes it worth the trip. Add to the island's blindingly beautiful beaches some of its stonking seafood – with Phu Quoc's famed fermented fish sauce – and you have a seriously scrumptious beach break.