Son La
Son La is located in Northwestern Vietnam with its topography fully describe geographical traits of this area of Vietnam with many mountains, hills, rivers and mineral sources, surrounded by primitive forests. Son La border quite many provinces such as Lao Cai and Yen Bai to the North; Phu Tho and Hoa Binh to the East; Dien Bien to the West; and Thanh Hoa and Laos to the South.
This province was first appeared on Vietnamese map during King Le Thanh Tong Dynasty in 1479 as a part of Hung Hoa Province. The province has gone through a lot of changes in its area before officially named Son La on 23/8/1964.
Son La used to be a part of Viet Bac Inter-zone, consisting of the 6 Northwestern provinces that was headquarters of Vietnam Communist Party and Viet Minh Government during resistance war against French colonist in 1945.
Attractions in Son La
Son Moc Huong Cave is often referred to as Moc Chau Bat's Cave. In fact,…
Mong Village (Ban Mong) is a great destination for people who look for a…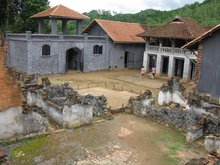 French colonization period has been over for a long long time, but a huge…