20 Must-Eat Vietnamese Dishes from North to South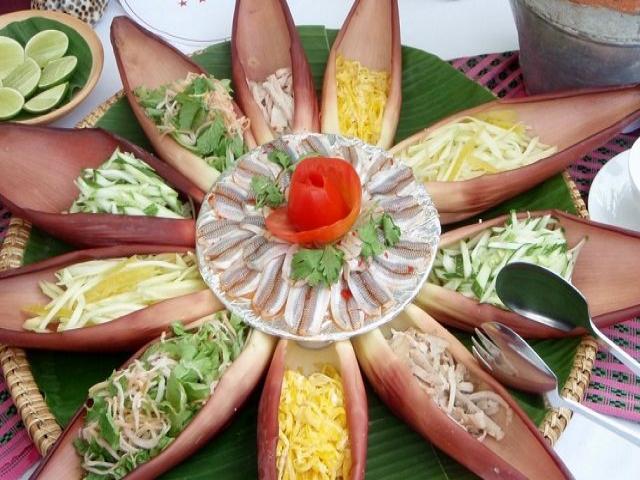 Vietnamese cuisine doesn't win any points for complexity. Many of the most popular dishes can be made just as well on the side of the road as in a luxurious restaurant. But it's precisely this simplicity, the subtle variations by region and the fresh ingredients that keep us pulling up a plastic stool for more.
1. Pho
This is a famous dish of Vietnam, formed from the 20th century in the North. Hanoi Pho has elegant and great taste, Saigon Pho has many more fresh vegetables.This simple staple consisting of a salty broth, fresh rice noodles, a sprinkling of herbs and chicken or beef, features predominately in the local diet -- and understandably so. It's cheap, tasty, and widely available at all hours.
2. Nem ran/Cha gio
Vietnam's bite-sized crunchy spring rolls might not enjoy the same popularity as their healthier fresh equivalent, but they deserve a special mention.The crispy shell with a soft veggie and meat filling dunked in a tangy sauce gets the gastronomic juices flowing before a main course. In the north these parcels go by the name nem ran while southerners call them cha gio.
3. Banh Cuon
This is the specialty of northern Vietnam. Thin crusts rolling minced meat with black fungus is steamed and served with meat pie and sauce.
4. Banh Xeo:
Pancakes like a kind of fried pancake made from rice flour. With the shrimp, beansprouts, onions and pork, pancakes are usually cut out and wrapped in rice paper or lettuce with herbs and fish sauce. Most delicious pancakes are in Hoi An, central Vietnam.
5. Hue Beef Noodle Soup
Broth of noodle dishes are cooked from beef bones, tibia, onions, cilantro and lemongrass. Some restaurants also add pig's trotters and blood. The soup will taste better if you add some sour shrimp and basil.
6. Nem Nuong
If you like barbecue, you definitely will be enthralled by specialty baked rolls, specialty of Nha Trang, including minced meat mixed with onion, black pepper, fish sauce and grilled over charcoal. Baked rolls served with herbs like coriander, carrots, basil, noodles and rice paper.
7. Tom Bao Mia
This is a traditional dish of Hue made from sugar cane wrapping shrimp grilled on charcoal. The sweetness of sugar cane combined with shrimp meat gives a very special flavor. Shrimp paste is commonly used as an appetize, or served with noodles, carrots, herbs and crushed peanuts.
8. Hu Tieu
Similarity with rice noodle in soup in the north, noodles are typical dishes of Southern Vietnam. Unlike Pho, noodle strands are mixed with garlic oil, sugar, oyster sauce and soy sauce before adding the broth from chicken or pig bones. The other ingredients include seafood, chicken and pig's blood.
9. Cha Ca
Hanoians consider cha ca to be so exceptional that there is a street in the capital dedicated to these fried morsels of fish. This namesake alley is home to Cha Ca La Vong, which serves sizzling chunks of fish seasoned with garlic, ginger, turmeric and dill on a hot pan tableside. Cha Ca La Vong may be the busiest but the service is a bit gruff and the food overpriced.
10. Cao Lau
This pork noodle dish from Hoi An is a bit like the various cultures that visited the trading port at its prime. The thicker noodles are similar to Japanese udon, the crispy won-ton crackers and pork are a Chinese touch, while the broth and herbs are clearly Vietnamese.
11. Rau Muong
Some might call it river weed -- with good reason -- but that doesn't stop the masses from scarfing down platefuls of morning glory, usually stir-fried and seasoned with slithers of potent garlic.
12. Bun Cha
Pho might be Vietnam's most famous dish but bun cha is the top choice when it comes to lunchtime in the capital. Just look for the clouds of meaty smoke after 11 a.m. when street-side restaurants start grilling up small patties of seasoned pork and slices of marinated pork belly over a charcoal fire. Once they're charred and crispy the morsels are served with a large bowl of a fish sauce-heavy broth, a basket of herbs and a helping of rice noodles.
13. Banh Mi
The French may have brought with them the baguette, but Vietnam takes it to a different level. How exactly depends on what end of the country you're in. In the north chefs stick to the basic elements of carbohydrate, fat and protein—bread, margarine and pâté—but head south and your banh mi may contain a more colorful combination of cheese, cold cuts, pickled vegetables, sausage, fried egg, fresh cilantro and chili sauce.
14. Lau
Eating this hodgepodge hotpot dish is a communal affair with everyone digging in to the oversized boiling pot. Having found that just about anything can (and will) go into this soup from tofu to frogs. It's best to stick to one main protein rather than opting for the mix of meat, poultry and seafood together.
15. Com Suon Nuong
This simple meal is the Saigonese equivalent of bun cha -- with rice in place of noodles. A tender pork cutlet is barbecued over hot coals to give it a rich, smoky flavor, and laid over the fluffy white com.
16. Nom Hoa Chuoi
Vietnam's banana flower salad packs a much bigger punch than a typical plate of mixed greens. Banana flowers (thick purple lumps that will later turn into bunches of bananas) are peeled and thinly sliced then mixed with green papaya, carrots, and cilantro along with chicken and a heavy-handed pour of a salty fish sauce dressing and crunchy peanuts.
17. Ga Tan
Got the sniffles? Opt for ga tan, a broth that's Vietnam's answer to the proverbial cup of chicken noodle soup. Sure it's not quite how your mother used to make it, with its greenish tinge from the herbs and hunks of chicken parts, but it's worth a try if you're needing a Vietnamese tonic.
18. Bo La Lot
Vietnamese are masters of wrapping their food. Bo la lot is neither raw nor deep-fried, but flamed on an open grill to soften the exterior and infuse the betel leaf's peppery aroma into the ground beef inside.
19. Bo Luc Lac
Cubes of beef are tossed around a steaming wok with garlic, pepper, and some vegetables to make shaking beef. There's nothing special about the beef that makes it shaking. The name is just a literal translation that refers to the process of mixing the beef around while cooking.
20. My Xao Bo
Mix noodles with a dollop of oil, then add beef, onions, garlic, morning glory and some tomato for color and you have a platter of my xao bo. The whole dish takes about as long to make as instant noodles -- but oh so much more flavor.